2023 Consumer Electronics Show - Las Vegas
2023 marked a big comeback year for CES, with over 115,000 people in attendance (70,000 more than last year). It still doesn't match 2020 (170,000 attendees), but it definitely felt like the spectacle and grandness of CES had returned.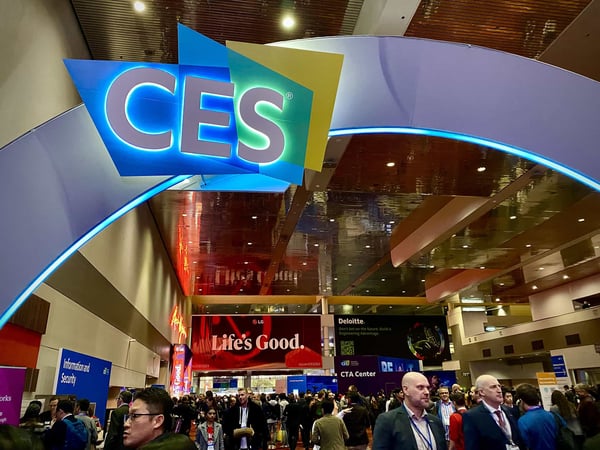 Highlights? CES 2023 was chock full of new and amazing new technology, as always! Here are two great synopses of the most newsworthy things to come out this year's show:
But what did I see of interest while I was there? What captured my curiosity? Plenty! Let's dive into some of my favorites…
Big Tech Companies Going Green
The primary example of this that comes to mind was a really beautiful, large booth experience by Panasonic. There was a huge, green tree as the centerpiece, highlighting their main message of becoming more green. I was really impacted by their video presentation, and sat through it several times actually. You can see it a shorter version here (there were a lot of additional facts in the version I watched)
They have an audacious goal to be net-zero by 2030 - that's not very far away! I thought this was such a great thing to see and hope other large tech companies will follow in their footsteps. This is probably not one of the "coolest" things most people are talking about at CES, but it was one I was impressed by quite a bit. You can see a neat 3D walkthrough of the booth experience here.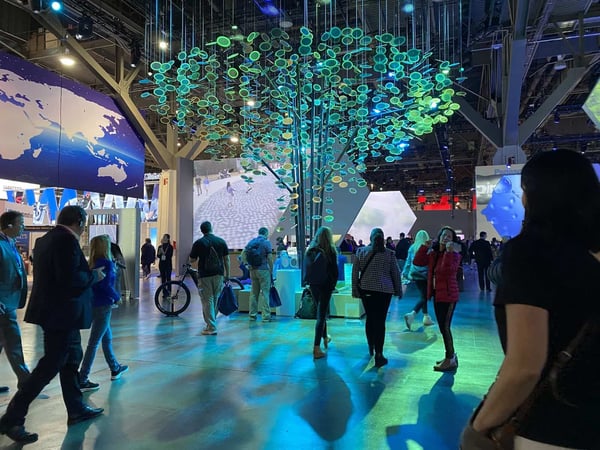 VR/AR
There were a LOT of VR/AR exhibits at CES this year! After attending the Immerse Global Summit in December, I had a pretty good handle on most of what was out there in the realm of VR/AR/XR technology. However there were a couple of things that caught my interest, including from a company that surprised me: Canon. Yep, the camera manufacturing company has a new application (that's right, software!) that is helping solve one of the most ubiquitous problems in VR - not really feeling like you are face-to-face with someone when in virtual reality. They utilize a phone app, and any compatible VR headset to provide a "real together experience." I was genuinely excited to see this in action for myself, and went through getting scanned by the app, creating a profile, and putting a VR headset on… only to not have the call go through to their employee in NYC. They tried three times but it didn't work and I had to move on, so I did not actually get to SEE it working, which bummed me out. But here is a splashy, short video about it; and here is a write-up by Interesting Engineering as well as Canon's official release about it It's coming out February 2023, and I'm honestly excited about it - I think it's time VR started feeling more realistic.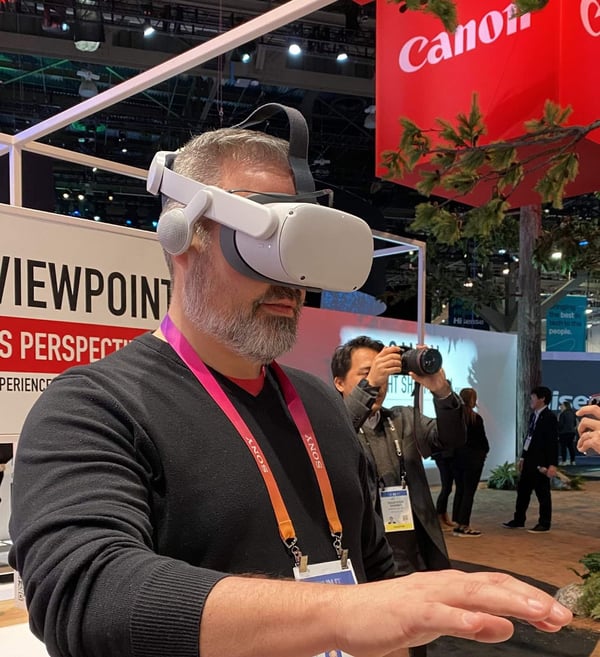 Healthcare Tech
Another thing that caught my eye related to VR/AR was an invitation to "Create your virtual twin" at the Dassault Systems booth. Now, for those who don't know, there are many companies and industries already using camera and VR technology to create "digital twins" of airports, hospitals, oil rigs, and such, which allows them to then pair the digital twin of the real thing with data coming from the real twin, and run simulations and tests on the digital one, without disruption in the real environment. So it was interesting to me when Dassault was suggesting that you could create a virtual twin of yourself, and that doctors were beginning to do practice surgeries on virtual twins of people before they operate on you, to make sure they get it right. Sounds like a great idea to me! Dassault is known for their 3D systems and products that go across multiple industries, but this specific healthcare use case was one that I thought was a new and interesting use case I hadn't encountered before.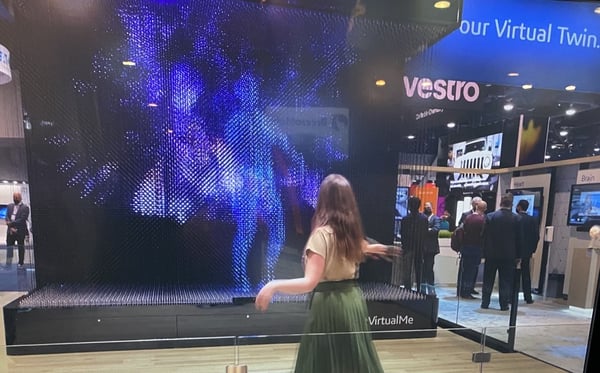 Automotive Innovation
It seems like not long ago when there were a few companies beginning to be all-in on EV (like Tesla), but now literally everyone is. Every manufacturer has EV options in cars, and now many of them have truck options as well. There are a lot of electric motorcycle companies out there as well. Autonomous innovation continues its rapid growth as well, and even though most of the people I've talked to recently think true autonomous travel is still 10-15 years away at least, the advancements and the desire to have it within the industry are still a massive and constant focus. There was technically a flying car there, but the Aska A5 is really more airplane than car, even though it has four wheels.
One booth that got me excited stems way back to my childhood when I remember going to either Sunrayce or similar solar car races. I've recently wondered with the push for everything to be EV, when will someone tap into the sun to make a solar-powered EV - thus solving the biggest problem with EVs, that of having to wait around at charging stations. And it looks like Lightyear has done it (they are not the only solar car company out there, but they had a booth that I stopped by at CES). Their cars charge anywhere and take you everywhere, and are built for grid independence. You can even plug them into a regular household socket if needed. And, they managed to put solar panels on the car, and still have it be a decent-looking thing I wouldn't mind driving around! I think this is one of the more exciting things happening related to EV right now, and I'm on their waitlist and anxious to keep my eye on this company.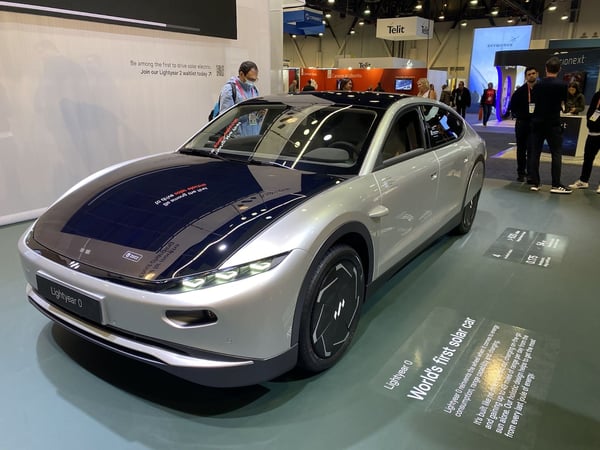 Apps
There are lots of app companies out there. I am always a fan of app companies doing good in the world, and there were two that stood out to me in particular this year. The first is Rebokeh, who has created a mobile app for people with moderate vision impairment. This totally free app allows people to use the camera function of their phone to enhance what they are seeing, in various ways. You can use a powerful zoom feature (that they cleverly also added good image stabilization to), color filters, the ability to adjust contrast, and even create custom video filters. They have some solid supporters, and a good vision. Check them out!
I also came across Goodmaps, - maps with a mission. They use a LiDAR backpack to scan a facility, like the Las Vegas Convention Center, and then develop a detailed digital map of the space, including a 2D floorplan and 3D model. You can then add POIs with names in multiple languages (like restrooms, booth numbers, etc) and share the map via their app, and it allows people who have visual impairment, or people like first responders to more quickly, easily, and accurately find where they need to go in a large environment, without assistance. I got a demo of their app, and it will give you audio cues as far as which way to turn and how many feet until you arrive. I know they have big plans to continue doing more and more with this technology, so it will be interesting to see how they develop!
Conclusion
There are tons of companies doing great things with tech to improve the world in 2023 and beyond. Were you there? What's exciting to you in 2023? What are you working on that will make the world a better place? Do you need a partner to help you get there? If so, reach out to find out about our alternative to outsourcing, Edge Sourcing.
‍