Does anyone else miss personal connection in the business world? Yeah, us too. So this year Sproutly has been starting to attend conferences and trade shows again, looking for new relationships with interesting companies. We have already attended CES , SXSW, and Startup Grind , and plan to attend several more shows later this year. Our mantra when out and about has been "chasing our curiosity." This means looking for the things that really stand out to you, that catch your attention, and speak to you in some way. Then go in, start up a conversation, and find out more about it!
We have had some really awesome conversations, made great connections with new people, and found out about some really amazing companies already, just by chasing our curiosity. We wanted to take a little time to highlight a few that have stood out to us.
We encountered Damon Motorcycles out at CES Las Vegas in January, and our curiosity was immediately stoked when we walked into the outdoor Damon booth. They were revealing their newest bike design at the show - the HYPERFIGHTER. "Raw. Ripped. Electrifying." are the three descriptors they use for it on their website, and we can confirm that these are accurate descriptions, especially when you see it in person! With their yellow and black designs, these machines look every bit as awesome as their combustion-powered counterparts. But here is the coolest part: they are fully electric, built around the HYPERDRIVE motor platform which they designed and built themselves, from the ground up! It has 200 horsepower, is capable of going 0-60 in 3 seconds, will do 170 mph, requires zero maintenance, and has a 146 mile range. But the sweet tech doesn't stop there. Their bikes use COPILOT, a predictive AI incorporating radar and other sensors to provide you 360 degrees of situational awareness while riding. It will alert you via LED heads-up in front of you, as well as through haptic feedback in the handlebars when someone is approaching from behind you. Combine all of this with on-the-fly adaptive ergonomics, where you can literally switch riding position on the bike while in motion, and you've got one heck of an impressive motorcycle. Here's a photo from the unveiling: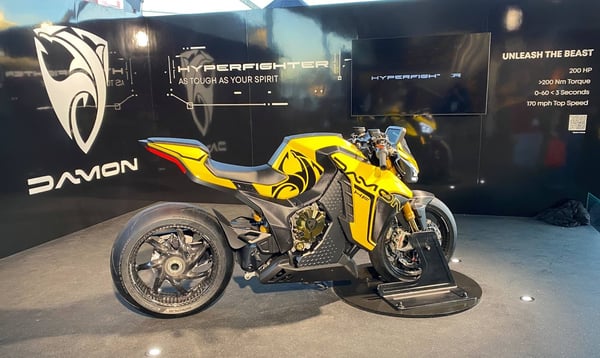 In talking with their Creative Director, David Lam, we found out they were founded around the same as Sproutly, and they are growing their team right now. We were so glad to discover this awesome company pushing the boundaries of technology and design, while also making the world a better place. Great job and keep up the good work Damon Motorcycles!
If you're like us, you've spent hours and hours in video meetings over the last two years. If we asked you what phrase is more repeated in those meetings than any other, what would you say? You would be likely to say "You're on mute." The mute button has become so ubiquitous in the business world, yet we are still so often scrambling to find the tiny mute button within the UI of various apps on screen in time to either hide a sneeze, or be able to say something in time as a response. So when we walked by a booth with a giant illuminated mute button solution, it definitely got our attention. Here was a company trying to solve a problem!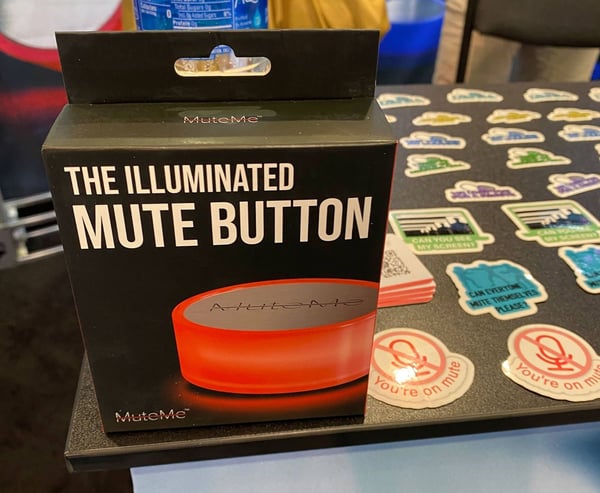 We spoke with Tye Davis of MuteMe, who has come up with a really simple, yet effective solution to this problem. They have designed a hockey-puck-sized button that lights up red or green to visually make it super clear whether you're muted or not. It's also very simple to toggle between being muted or not by just hitting their large, easy-to-find button, instead of having to dig through the app UI. It plugs into any computer via USB and you can set it as push-to-talk or push-to-mute, depending on your preference.
Davis told us they also have some new hardware and software ideas they want to continue to roll out in the next year or so, which will continue to make this solution work for even more people in more situations. What we really appreciated was how they tackled such a prominent problem in such a straightforward way. There's more going on here behind the scenes, with MuteMe also doing a lot of hard work with code and licensing that the end user isn't aware of, making it easy and enjoyable for them to just pull it out of the box and start using. You can also customize these with a company name and we think we'll definitely be rolling out some Sproutly MuteMe buttons to our team later this year! Awesome product, and a great couple of guys running this cool startup!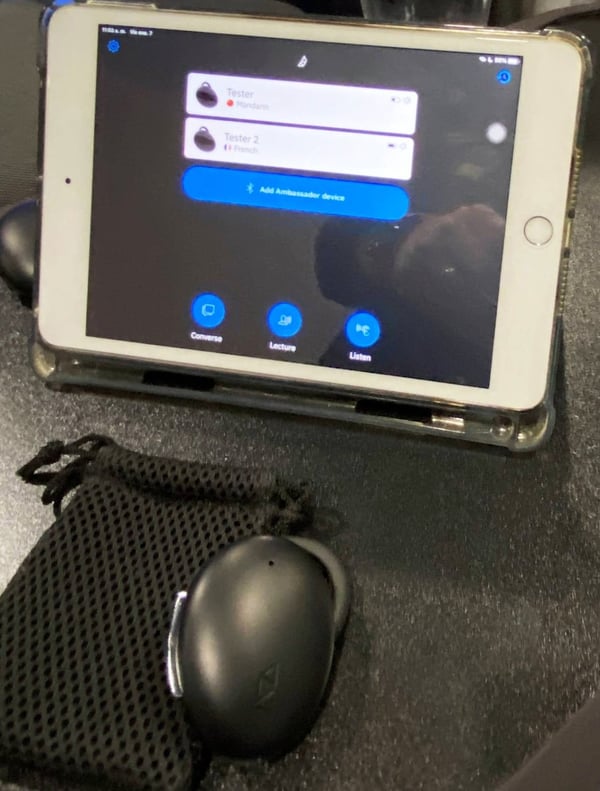 The tagline posted in the Waverly Labs booth was bold: "Goodbye Language Barriers." The technology solution they were showcasing that could eliminate these barriers was the Ambassador Interpreter, an over-the-ear translation device. Alexis Creuzot was on hand to have a great conversation with us about all the scenarios that the Ambassador could be useful for: conferences, travel, tourism, business, and more! It can be put into three different modes: Listen, Lecture, or Converse, depending on your situation. It was designed to look nice, be easy to carry along with you, and be accurate. And they are already offering an impressive 20 languages of translation.
Jeremy, who previously worked at a language software company, had to try it out. He chose Mandarin as his primary language (not his primary language, but one he was familiar with - he wanted to test it out in something other than English), with Alexis using French, and sure enough, it did a great job translating between the two of them! We were able to imagine being at a conference in the future, listening to a keynote speech by non-English speakers who would be able to lecture in their native language, or being able to hand one to someone else at the conference who we could then have a conversation with that we wouldn't have been able to otherwise. This is very cool technology that could play a big role in bringing people together as it continues to be more widely available and utilized!
These are just a few of the amazing companies we have encountered by getting back out there this year, and we can't wait to see who else we find out about as we continue to chase our curiosity in 2022! If you haven't heard of any of these companies before, definitely check them out and follow them as they are doing great things in the space where technology and humanity intersects. And, who knows, maybe we'll see you out at a trade show or conference later this year? Even if you don't plan to attend something in person, we encourage you to still chase your curiosity and see what interesting ideas you come across!